http://www.digitalspy.com/ustv/news/a277440/judd-nelson-joins-two-and-a-half-men.html
Judd Nelson has signed up to appear in Two and a Half Men.

Fancast reports that the 'Brat Pack' graduate will appear in the fourth episode of the new season.

He will star in the show as Chris, the ex-husband of Lyndsey (Courtney Thorne-Smith).

Chris reportedly appears in unpleasant circumstances, but gets on well with Lyndsey's current partner Alan (Jon Cryer).

The new season of Two and a Half Men begins on Monday at 9/8c on CBS.


thanks cl... so that should be october 11... so excited!!!
cecilia wrote:

thanks cl... so that should be october 11... so excited!!!
Given that CBS doesn't put in any repeats, that would probably be the correct date. Already being familar with characters that he will be interacting with, its going to be a good episode.
Looks like October 11th is indeed the airdate.
TWO AND A HALF MEN "Hookers, Hookers, Hookers" Season 8 Episode 4 – Lyndsey and Eldridge move into Charlie's house after Alan burns down their home, on TWO AND A HALF MEN, Monday, Oct. 11 (9:00-9:31 PM, ET/PT) on the CBS Television Network. Judd Nelson ("Suddenly Susan," "St. Elmo's Fire") guest stars as Lyndsey's ex-husband.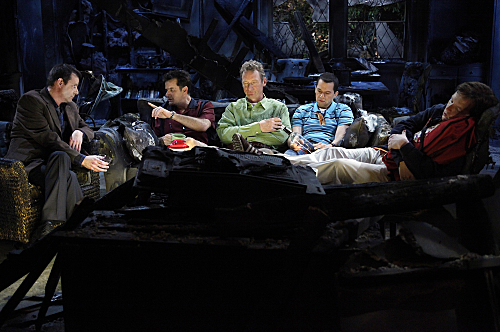 thanks so much cl for sending this info not to mention the pics.

i can't wait to see it, and it will make monday worthwhile. it's the first time i'll get up on a monday with a smile on my face.

Great job!

wow! so incredible! so adorable! leaves you wanting more! thumbs up to you judd!


---
Permissions in this forum:
You
cannot
reply to topics in this forum